********************************************************
::ST. MAARTEN CARNIVAL 2006::
April 26 - May 2, 2006
St. Maarten – an island full of natural beauty, cultural diversity and modern conveniences. What more could a person ask for?! The experience on this island of two cultures, French and Dutch, attracts people from all over the world because of it's multicultural charm and multilingual people, not to mention it's stunning beauty and tax-free, duty-free shopping!
I stayed on the Dutch side at the Sonesta Maho Beach Resort and Casino - a hive of activity in the centre of Maho with restaurants, clubs, casinos and beaches.
[CLICK ON PICTURES TO ENLARGE]
The Caribbean Vibrations crew were there as well to also cover Carnival 2006 and we did most activities together which was super! Caribbean Vibrations is a 30 minute entertainment programme that regularly explores exciting new community events – from carnivals to jazz festivals and culinary happenings – from Canada and around the world on OMNI 1, Saturdays at 2:30 pm. Good times! Many thanks to all the staff at St. Maarten Tourist Bureau - especially Lisa Coffi and William Bell (who still managed to escort us even though he was on vacation!).
********************************************************
::WEDNESDAY, APRIL 26, 2006::
Dinner on our first night was at Antoine by the Sea with it's classy appeal, good food and stunning view.
[CLICK ON PICTURES TO ENLARGE]

Caribbean Vibrations crew - Marissa, Royette, Scott and William Bell, St. Maarten Tourism Board

Dinner at Antoine's with Tourism Board reps and Caribbean Vibrations crew
Then we were whisked off to Carnival Village, where most activities took place, for the Youth Extravaganza where many local acts performed. It is a show for the youth and by the youth, hosted by one of St. Maarten's favourite prime time DJs, G Money. Many of the acts were talented and some were not but fun was had by all and we met some new up-and-comers that are making their mark globally. One of the highlights was meeting the infamous Johnny B from Under the Tree - who makes the most incredible grilled ribs, shrimp, lobster and chicken. Definitely a must, especially to balance the consumption of Presidentes, the local beer!
[CLICK ON PICTURES TO ENLARGE]
********************************************************
::THURSDAY, APRIL 27, 2006::
The next day I spent recovering from jet lag and having to rise up at 4am in order to catch my flights which landed me in St. Maarten at 2pm on Wednesday. Translation: day at the beach to unwind and prepare for many busy days ahead. Lisa Coffi then picked us up and took us to dinner at The Wharf - a casual dining experience with live band playing reggae, calypso and soka standards, which is owned by Elvis. We dined with a crew from Aruba, including this year's King and Queen, Rodney and Lisette. A good and fun night!
[CLICK ON PICTURES TO ENLARGE]
They we went to a local concert sponsored by The Sky is the Limit Foundation, held again at Carnival Village with many local calypso acts. Another full night of entertainment!
[CLICK ON PICTURES TO ENLARGE]
********************************************************
::FRIDAY, APRIL 28, 2006::
We started the day at Kangaroo Court for a good lunch in a beautiful setting during the day on Friday. Then, I tagged along with Caribbean Vibrations as they took shots from Philipsburg's shopping strip (unbelievable!) where we were treated with friendliness and some nice giveaways! Of particular note are the spectacular views and an amazing ice cream shop on the Boardwalk named Vanilla et Chocolat!
[CLICK ON PICTURES TO ENLARGE]
On Friday evening we went to Philipsburg for a very special party on the Boardwalk. Local artists perform in a street party fashion where there are marching bands and free flowing drinks and party favours. Almost had a Mardi Gras feel to it. We ate at a restaurant right on the Boardwalk, meaning facing the ocean (just gorgeous) with excellent food, service and attitudes at Oualichi Beach Bar. Special guests joining us for dinner was our host, Regina LaBega, the Director of Tourism for the St. Maarten Tourist Board, the former Miss St. Maarten, Angelique Martis-Romou and G Money.
[CLICK ON PICTURES TO ENLARGE]
After a few of us party poopers went back to the hotel, others continued on to celebrate Sr. Calypso Finals into Jouvert - an event that starts at 4:00 am!
********************************************************
::SATURDAY, APRIL 29, 2006::
On Saturday we were slow to rise and had a relaxed day. Saturday night dinner was at Paris Bistro, the sister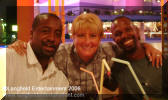 restaurant to The Wharf where we soaked in appetizers in order to save room for some of Johnny B's ribs!
We attended the International Latin Concert that night which seemed to be the best attended night of the carnival, with performances by Control Band and the hugely popular Grupo Aventuro, amongst others. The grounds at Carnival Village were packed and despite a few heavy rain outbursts, the crowd danced to the music instead of running for cover. I have to say that the band for Grupo Aventuro was off the hook with the hottest percussionists and guitarists ever! Plus, they had actors acting out one of their songs - great concept. And the crowds literally were wild for them with girls screaming and carrying on. It was great to watch.
[CLICK ON PICTURES TO ENLARGE]
********************************************************
::SUNDAY, APRIL 30, 2006::
CARNIVAL!! Royette from Caribbean Vibrations was lucky enough to score a carnival costume from Brenda Wathey of www.marry-me.com. So, I accompanied her during the parade with the many costumes representing many camps. The pictures are so colourful that I think they speak for themselves. And the body paint on the paradees was flawless. It was an exciting and exhausting day of 6 hours of walking, dancing, drinking, partying. Probably the hottest day we were there as well! As soon as we returned to the hotel, the group split up and flopped into our hotel rooms. An exhausting and fun day!
[CLICK ON PICTURES TO ENLARGE]

Royette and Marissa ready to play!

Brenda Wathey and Royette at Carnival

Aruba Carnival King and Queen, Rodney and Lisette

Royette and friend at Carnival

Carnival participants

Carnival revellers

Carnival participants

Carnival kids

Carnival participant

Carnival participant

Carnival police keep the peace

Carnival participant

Carnival participant

Carnival participants

Carnival participant
********************************************************
::MONDAY, MAY 1, 2006::
After taking in a gorgeous dinner at Turtle Pier, we went to attend the International Zouk/Kompa Concert. The Caribbean Vibrations crew that covered the night said that they had a great time once they were allowed to settle in. It was my last night in St. Maarten and I decided not to cover the concert.
********************************************************
::TUESDAY, MAY 2, 2006::
Time to return to Toronto ... Breakfast on the beach with dear friends, catching that last bit of sun and last minute packing took up the morning and before you knew it, I was on the plane to return to Toronto, but not before we shared a couple more Presidentes!
St. Maarten is definitely a Caribbean destination to consider visiting - with it's undeniable good weather, beautiful beaches and friendly locals, there's no way you could go wrong. Definite pluses are the international flavour that the island has adopted with two countries living in harmony which attracts many global visitors from vastly different backgrounds. And lest we not forget the tax-free, duty-free shopping. I've never seen so many diamonds and beautiful jewellery in my life!
********************************************************
::SPECIAL THANKS::
[CLICK ON PICTURES TO ENLARGE]
Caribbean Vibrations – for allowing me to tag along – many MANY good times with lots of laughs (Dirty Dirty!) including Royette Baptiste, Alain Arthur, Scott Hnatiok and Marissa Cameron. Special mention to Alain for doing most of the driving!
William Bell, Marketing, St. Maarten Tourist Bureau – For still coming out to hang with us while still being on vacation.
Lisa Coffi, St. Maarten Tourist Bureau – For being the perfect host and troubleshooting absolutely everything!
Regina LaBega, Director of Tourism, St. Maarten Tourist Bureau – For giving us the permissions needed to travel and cover this great island's Carnival.
Angelique Martis-Romou and G Money – For keeping the laughs coming!
And for all those not mentioned for making my time more enjoyable and fun!